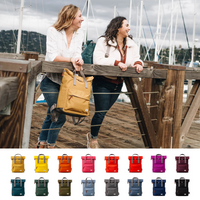 Meet Butler Corner's Signature Bag by Ori London
Roll up in style with the Ori roll-top backpack.  The Canfield B Backpack is weather resistant, durable and sleek, making it perfect for anywhere your day might take you. The roll-top design enables a wide-mouth opening, complete with a zip and a magnetic hold and so you can fill this bag to the brim worry-free.

A secure and innovative closing feature, secret wallet pocket, and chunky zip come together to create a secure and trendy backpack. No matter the length of the commute, the weather outside, or how many belongings you're toting, the Canfield B is the ideal travel accessory, kids school bag, and all round practical backpack.